CDE-W265EBT Software Update
This software update improves/corrects the following functions of CDE-W265EBT
Voice Dial function is improved with latest mobile phones
Performance update
CDE-W265EBT software update instructions
1. Download (15MY_2DINHU_AE_102E.bin)
2. You will need a blank USB stick to complete this Software Update. The USB stick can not contain any other files and should be formatted in FAT32 format, as per image below.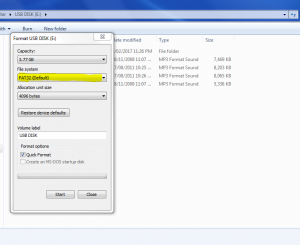 3. Copy and paste (15MY_2DINHU_AE_102E.bin) on to your formatted USB device
4. Safely remove USB from your computer once the update has been loaded correctly
5. Turn the head unit on and change to USB source
6. Insert USB stick into the head units USB port, the display will show 'UNSUPPORTED'
7. Push the BAND and Preset 3 buttons at the same time
8. Hold down Play/Pause button until you see "update no" on the display.
9. Turn the rotary encoder to select "update yes" and press the rotary encoder to start the update.
10. The display will show "UPD Start" and then "UPD XX%"
11. "UPD XX" will appear on the display for approximately 10 minutes while the unit is updating.
12. Once the update is complete "Updated" will appear on the display. After 5 Seconds the display may change, proceed to Step 13
13. Turn off Head Unit, remove the USB memory stick and the turn Head Unit back on and the update is complete
If update fail appears on your display it is recommended to repeat steps 1-13.