INA-W900E Software Update 1
>> Download Software: INA-W900E SD update
This software update corrects the following functions of the INA-W900E;
Fixes problems with SD card not being recognized by INA-W900E
PLEASE NOTE: THIS UPDATE IS NOT SUITABLE FOR THE INA-W910R. USING THIS UPDATE ON THE INA-W910R WILL CAUSE ERRORS
INA-W900E System Update Instruction
1. Download INA-W900E SD update.zip (above file)
2. Prepare a blank SD card by formatting it in FAT32 format.
3. Extract INA-W900E SD update.zip to your desktop.
4. Open the INA-W900E SD update folder. You will see the below contents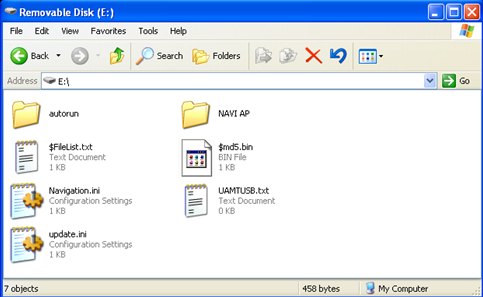 5. Copy the contents (that is, the 7 files inside) of the INA-W900E SD update folder onto the root directory of your SD card.
(If the INA-W900E SD update folder is copied directly onto the SD card the update will NOT work)
6. Remove the SD card from your computer.
7. Turn your vehicle's ACC on.
8. Press the eject hard key to open the face of the INA-W900E.
9. Insert the SD card into the SD card slot on your INA-W900E.
10. Press the reset button on the INA-W900E.
11. Turn on your INA-W900E and press the MAP button.
12. Wait for update to complete then press OK
13. Remove SD card.
14. Update complete.