Whether you're hitting the job site or the bush Alpine's Nissan Navara solution will make driving your vehicle even more enjoyable!  With Apple CarPlay, Android Auto and an extensive in-built navigation platform, the X308AU will take your in-car experience to the next level.
Equipped with latest hardware and software configuration for remarkable speed and responsiveness, the X308AU sports a newly refined user-interface that makes control of features like the in-built Primo 3.0 Navigation better than ever. The new Primo 3.0 NextGen navigation provides greater operation speed, plus the addition of gesture control such as pinch zoom. With built-in safety camera alerts, school zones, 3D city maps and 4WD Off-Road maps, plus an extensive Point of Interest (POI) database Alpine's premium navigation has you covered.
DAB+ digital radio, HDMI input, USB video and audio including playback of high resolution FLAC music are all effortlessly accessed via the stunning 8" capacitive display. Apple CarPlay and Android Auto brings your smartphone into the dashboard for phone calls, messages and music apps for an endless array of entertainment which can also be commanded via voice control. With its extra-large display and superior performance the X308AU will completely transform your driving experience.
NAVARA-X308STX Solution includes:
Premium OEM Grade Fascia Kit, including mounting hardware
Wiring Harness, including Steering Wheel Control retention
Factory Camera Retention (Rear camera view only, the Nissan 360 degree camera is not retained)
HDMI/USB Input Panel
Premium Built-In Navigation
The superb Primo 3.0 navigation platform provides an exceptional map viewing experience with features such as 3D landmarks, 3D cityscapes, lane guidance, pinch-zoom function and a state of the art Points of Interest database. Plus, live traffic updates (TMC) provides you with traffic incidents and road hazard information.
3-Years Free Map Updates
With access to 3-years of free map updates you can keep the navigation maps up-to-date with changed and new road systems, as well as updated speed zones and traffic cameras.
Smartphone Navigation
Apple CarPlay and Android Auto works seamlessly with the included GPS and Glonass antenna to provide an accurate navigation experience. With voice control you can set your destination or use the display to type in a location and begin driving. Plus, voice guidance gives you turn-by-turn instructions to keep you on your designated route.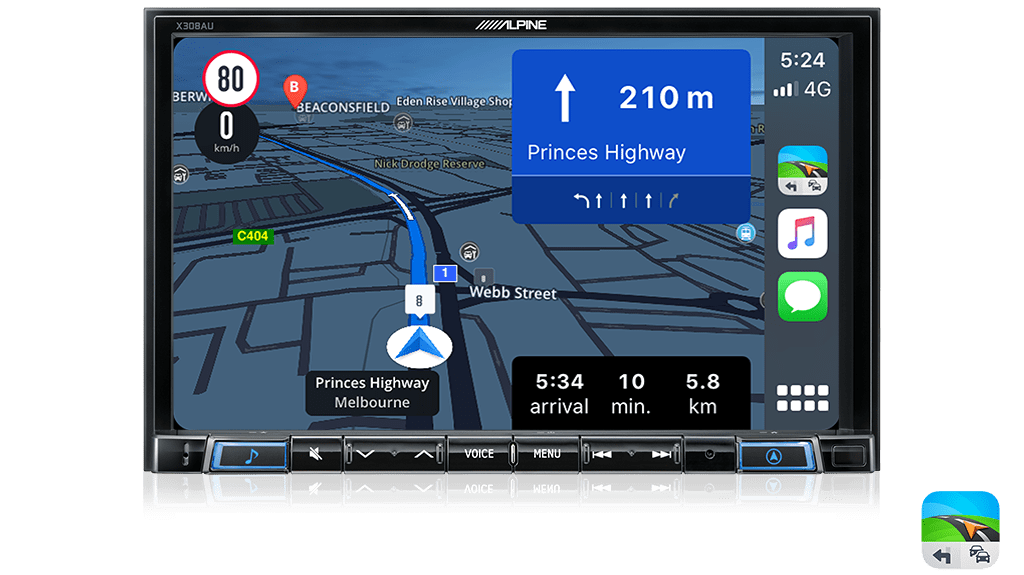 Sygic
The Sygic smartphone app is ready for use with Apple CarPlay bringing an in-car navigation experience to your dashboard. The Sygic app provides off-line maps with frequent updates and handy features such as traffic camera alerts, live traffic, lane guidance, actual speed and speed limits when using the paid service.
With Apple Music for CarPlay, 60+ million ad-free songs as well as expertly crafted playlists are at your fingertips to either stream or download to your device for offline listening. With the use of Apple CarPlay and Android Auto, Amazon Music and Google Play Music provides limitless entertainment to stream or download songs from a list of over 40 million ad-free tracks. Amazon Music, Google Play Music and Apple Music are paid subscriptions.
Access the worlds music library with millions of tracks and episodes available on Spotify. When using Apple CarPlay or Android Auto with the Spotify app, you can play the latest songs from your favourite artists, charts and playlists. Plus, browse through the collections of friends, artists, celebrities and radio stations all from the comfort of the driver's seat. Furthermore, get unlimited skips, no ad interruptions and much more with the Spotify Premium paid subscription.
The VOX app for iPhone lets you play Hi-Res FLAC, ALAC, DSD, PCM music files, as well as sync music and playlists from Spotify, browse and play streams from SoundCloud, plus access radio stations from around the world. With Apple CarPlay and the VOX app enjoy Hi-Res music and audiophile sound as the artist intended. The VOX Premium paid subscription provides limitless space for your music and much more.
While using Apple CarPlay and Android Auto, the Tidal app lets you stream your favourite songs in high quality audio. With over 60 million songs available to stream or download you have endless music options, plus you can stream guest playlists curated by the artists you love and listen to original playlists hand-picked by the Tidal experts. Tidal is a paid subscription.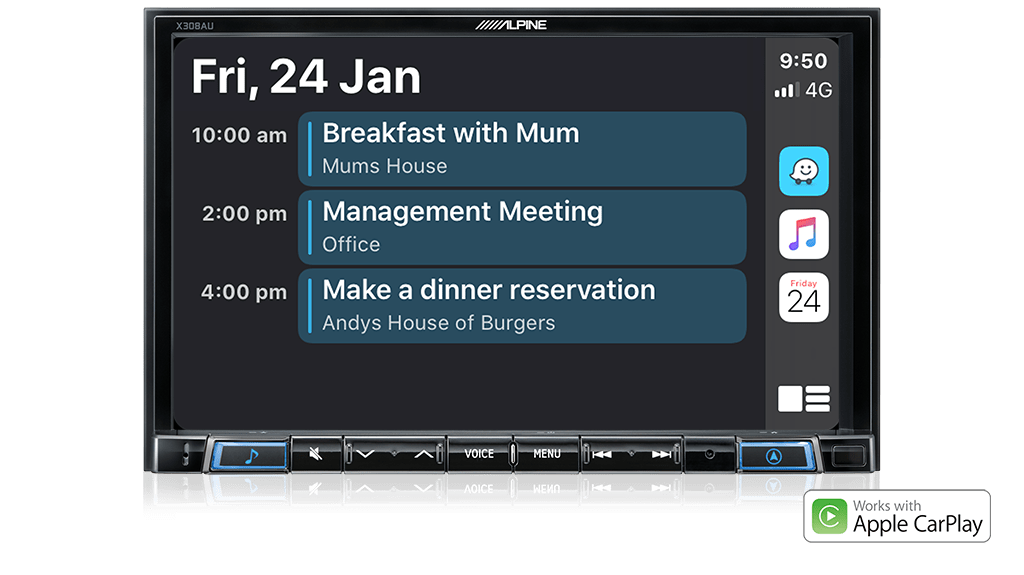 Calendar
Apple CarPlay brings your iPhone's Calendar schedule to your dashboard so you can stay up-to-date with future events and important dates whilst on the road. What's more, if you have a particular event with a location in your calendar, you can simply select the event from the display and Apple CarPlay will launch Maps and provide directions to the location with voice guidance.
Android Auto provides you with a simple yet convenient tab to display incoming notifications such as text messages and phone calls. Incoming text messages automatically notify you via the display or you can browse through recent messages. From the display you have the option to either preview the message text or play the message via text-to-speech.
USB Audio and Video Playback
A multitude of source options are available through the USB input on the X308AU. The USB port lets you connect memory devices to playback audio and video files, plus music from compatible iPod's or iPhone's.
Furthermore, high resolution FLAC music files are supported up to 24Bit/192kHz while AVI, MKV and MP4 video files are supported up to 1080p with superb clarity and image detail.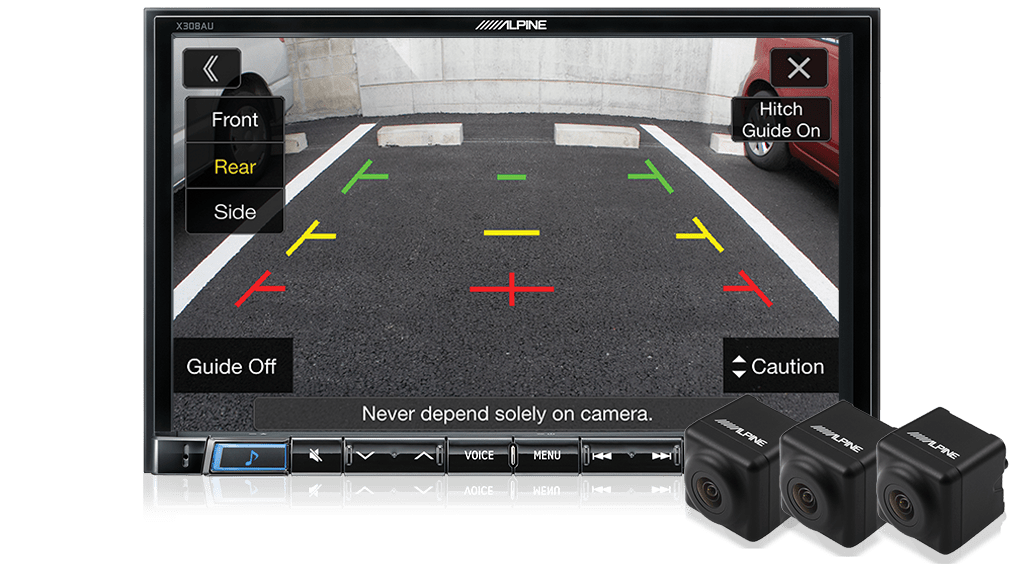 Direct Camera Port
The X308AU has the ability to add the Alpine reverse camera via the direct camera input or (RCA with optional CAM-ALP-ADP). Plus, you can add up to 3 cameras with the optional KCX-C250MC featuring touch control.