UTX-A09 Hi-Res Audio Digital Media AM/FM Receiver with Bluetooth and Dual USB
Built for audiophile purists and music lovers the UTX-A09 is designed without compromise. Ensuring ultimate sound quality performance the UTX-A09 is engineered with high-end audio circuitry and is Hi-Res Audio certified to playback FLAC, WAV and APE high-resolution audio files with support of sampling rates up to 24Bit/192kHz without down-sampling.
Moreover, the UTX-A09 has incredible versatility, functioning as a stand-alone head unit or can be added to an OEM system. Features include a built-in amplifier, AM/FM Tuner, Bluetooth (4.0) hands-free and music streaming, dual USB inputs, iPod/iPhone connectivity and an auxiliary input with 'navi mix' function allowing voice guidance to be heard when using OEM navigation.
High-end sound tuning capabilities include digital time correction, digital crossovers ready for a 3-way active speaker system setup, 9 band parametric EQ, MediaXpander HD and TuneIt App ready for sound tuning via a smartphone. The 3 pre-outs (4 Volt) with subwoofer level control allows for expansion to multiple power amplifiers, plus the optical and SPDIF digital coax output enables connection to an external audio processor for ultra-high-end system configurations.
A unique high-end design that suits a multitude of installation applications
Perfect for stealth, vintage or exotic vehicle applications the stunning 2.4-inch TFT display controller has a slim profile which can be mounted virtually anywhere and for bespoke installations the included flush mount bezel can be utilised. The black box can be installed into a 1-DIN space or hidden away in a glove-box compartment or other discrete location such as under a seat or dashboard within a distance limited to the 2.5mtrs controller display cable length.
CD Standard Sampling Rate
CD standard provides excellent  sound quality with a sample rate 16Bit/44.1kHz and a frequency range typically 20Hz~20kHz. 
Hi-Res Sample Rate (192kHz/24Bit)
Hi-Res Audio has remarkable high definition with sample rates up to 24Bit/192kHz and an extended frequency range 20Hz~40kHz.
Hi-Res Audio sound quality exceeding CD, a realistic and high-definition sound experience faithful to the original studio recording

The Hi-Res Audio certification is the industry benchmark for which has been standardised through JAS (Japan Audio Society). In summary, it is the collaboration of digital processes and formats that allow the encoding and playback of high-definition music files which require higher sampling rates and wider frequency dynamic range compared to what is found on typical CDs.
Hi-Res Audio encompasses the playback of high-resolution music such as FLAC, WAV or APE files that contain high sampling rates of 24Bit/192kHz (above the CD standard 16Bit/44.1kHz). These audio files can be reproduced with high fidelity sound via the UTX-A09 and companioned with Hi-Res Audio certified speakers and amplifiers.
Listening to Hi-Res Audio allows you to feel every emotion and immerse in the realistic nuances and fine details of your favourite artist's original studio performance which is reproduced in high-definition sound. Furthermore, Hi-Res Audio has absolutely no distortion and incredible dynamics for an authentic and exhilarating audiophile listening experience.
Easy to use controller to select sources, browse music and make sound adjustments
Controlling the UTX-A09 is a simple and easy task. The hard keys provide instant control of main functions such as phone and track up/down selection. Moreover, the rotary encoder makes volume adjustment, selecting menus and sources, as well as browsing through music your and phone book intuitive and fast. The vibrant 2.4-inch display delivers a rich user interface experience displaying Hi-Res Audio info, album artwork, artist and song titles. Selecting between preset EQ and MediaXpander HD modes is a breeze and on-the-go sound adjustments is easy and effective too.
All parts included for an OEM add-on system or bespoke custom installation
The UTX-A09 gives you virtually limitless installation flexibility when compared to a typical 1-DIN head unit. The slim profile 2.4-inch TFT display controller is separate from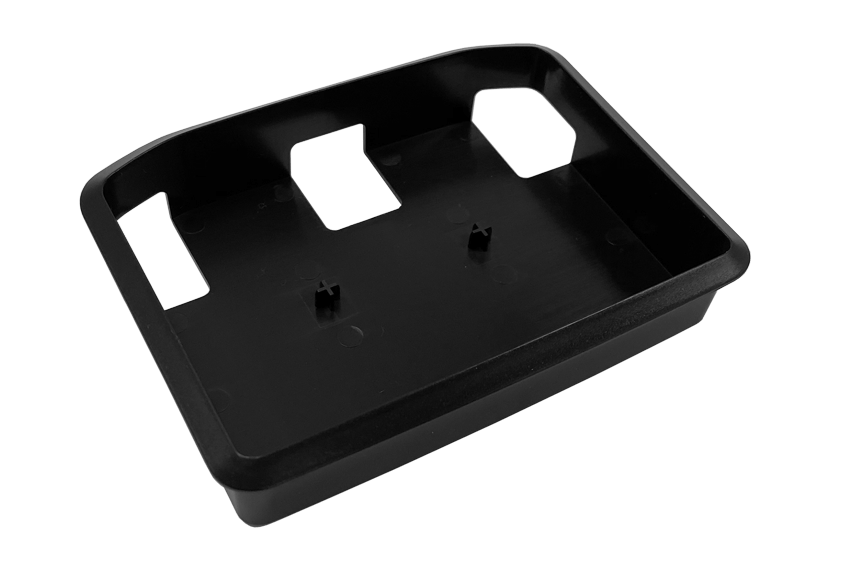 the black box which can be fitted up to 2.5mtrs away. Furthermore, the display controller flush mount housing allows for the  bespoke fitment into a flat surface.
Hi-Res Audio solution for premium vehicles equipped with factory navigation
Vehicles equipped with a factory navigation system and integrated vehicle controls often cannot be changed. The UTX-A09 keeps your OEM system intact by allowing it to be added to or integrated with the OEM system for pure high-end sound and additional functions such as Bluetooth (4.0) for music streaming and hands free phone with compatibility of newer smartphones. Plus, the auxiliary input with 'nav mix' lets you hear voice guidance from the factory navigation system.
High-end connections provide the foundation for the ultimate Hi-Res Audio system
The ultimate audiophile experience is awaiting, the UTX-A09 enables playback of your Hi-Res Audio music with sampling rates up to 24Bit/192kHz, all while Alpine Hi-Res Audio certified speakers and amplifiers reproduce sound recordings with extraordinary accuracy and definition, including nuances in upper harmonics way beyond the typical 20Hz-20kHz range.
DAS-A09M (optional) Controller for the UTX-A09 with RearView HD Night Vision Camera
The optional DAS-A09M innovative electronic mirror lets you add a HD night vision camera to your vehicle and command the UTX-A09. Equipped with an anti-glare optical blue mirror the display has stunning off-axis viewing, as well as automatic dimming function. The UTX-A09 easily is controlled by the hard keys and rotary encoder with info displayed on the mirror.
Tune your music to your style and preference using the Alpine TuneIt App
Take your smartphone use to another level with the Alpine TuneIt App. Your smartphone becomes a sound tuning interface which allows you to customise the UTX-A09 sound to your preference. As you adjust the sound settings via the TuneIt App you can hear the music quality change instantaneously. The TuneIt App is available in the AppStore and Google Play.