Alpine's iLX-407A is designed to provide the ultimate experience for smartphone users, all while unleashing an array of audio visual and connectivity capabilities in an ultra-compact 2.4" deep chassis.
With its stunning display and smartphone-like gesture control you can command the system with ease and customise the screen to exactly the way you want it. By using drag-and-drop motions you can move over 29 available widgets, change the GUI colour and even add your own wallpaper.
Entertainment and connectivity is virtually endless with DAB+ digital radio, USB music and video, HDMI and Dual Camera input, plus bring all of your favourite smartphone music and navigation apps to the dashboard with Apple CarPlay and Android Auto.
Moreover, expert tuning and sound quality is available with digital time correction, 10 audio pre-sets, 5-band graphic EQ, 24Bit DAC and 4Volt pre-outs.
The iLX-407A is a remarkable display centre piece rivalling features and performance beyond its modest price point.
For any product updates, please refer to the Alpine Australia website only. Visit https://www.alpine.com.au/support/product-updates/ for available updates.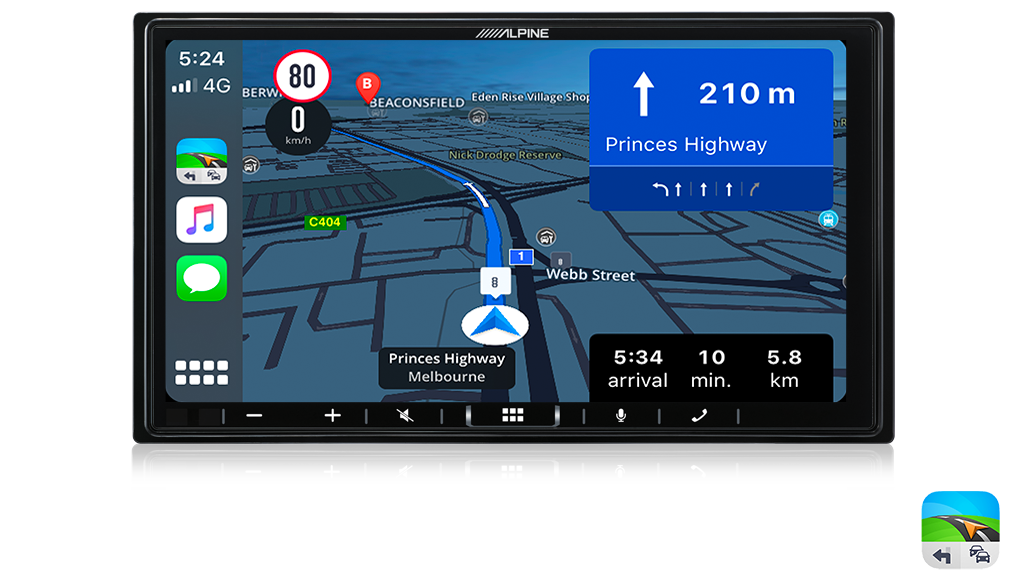 Sygic
The Sygic smartphone app is ready for use with Apple CarPlay bringing an in-car navigation experience to your dashboard. The Sygic app provides off-line maps with frequent updates and handy features such as traffic camera alerts, live traffic, lane guidance, actual speed and speed limits when using the paid service.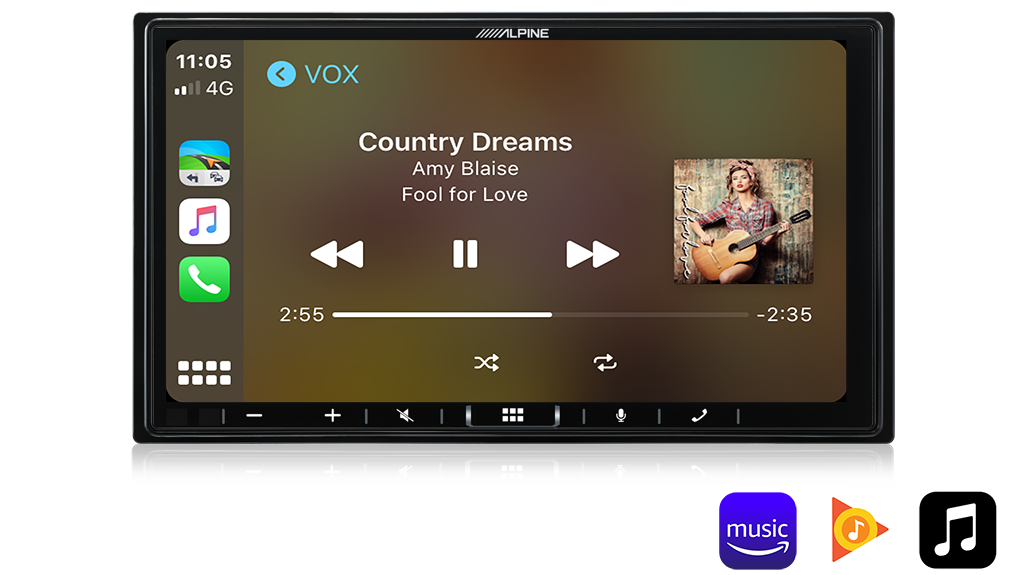 Audio Streaming Apps
With Apple Music onboard for Apple CarPlay you have access to 60+ million ad-free songs at your fingertips which you can search genres, artists, podcasts and expertly crafted playlists. With the use of Apple CarPlay or Android Auto, Amazon Music and Google Play Music provides limitless entertainment to stream or download songs from a list of over 40 million ad-free tracks. Amazon Music, Google Play Music and Apple Music are paid subscriptions.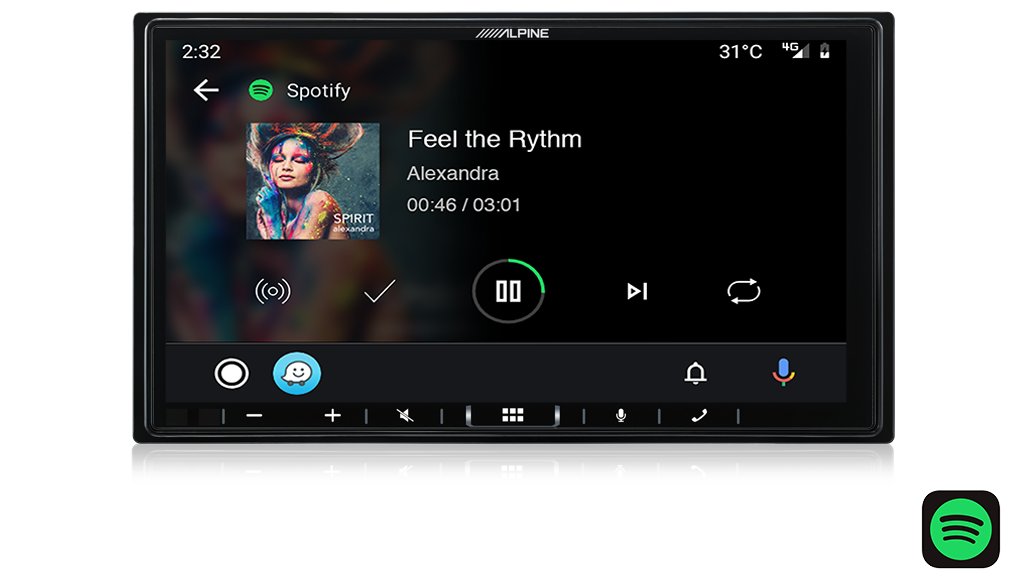 Spotify
Access the worlds music library with millions of tracks and episodes available on Spotify. When using Apple CarPlay or Android Auto with the Spotify app, you can play the latest songs from your favourite artists, charts and playlists. Plus, browse through the collections of friends, artists, celebrities and radio stations all from the comfort of the driver's seat. Furthermore, get unlimited skips, no ad interruptions and much more with the Spotify Premium paid subscription.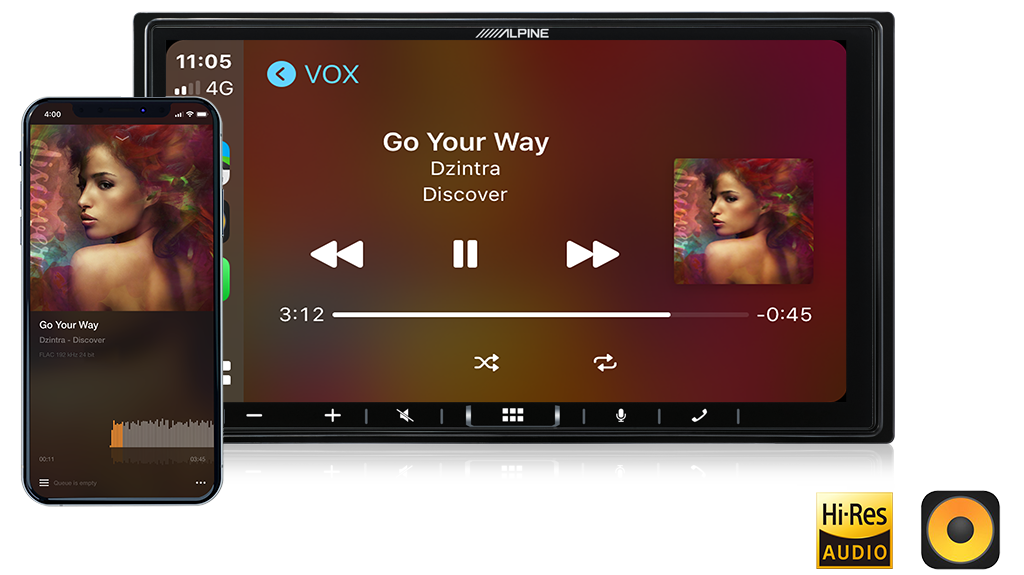 VOX
The VOX app for iPhone lets you play Hi-Res FLAC, ALAC, DSD, PCM music files, as well as sync music and playlists from Spotify, browse and play streams from SoundCloud, plus access radio stations from around the world. With Apple CarPlay and the VOX app enjoy Hi-Res music and audiophile sound as the artist intended. The VOX Premium paid subscription provides limitless space for your music and much more.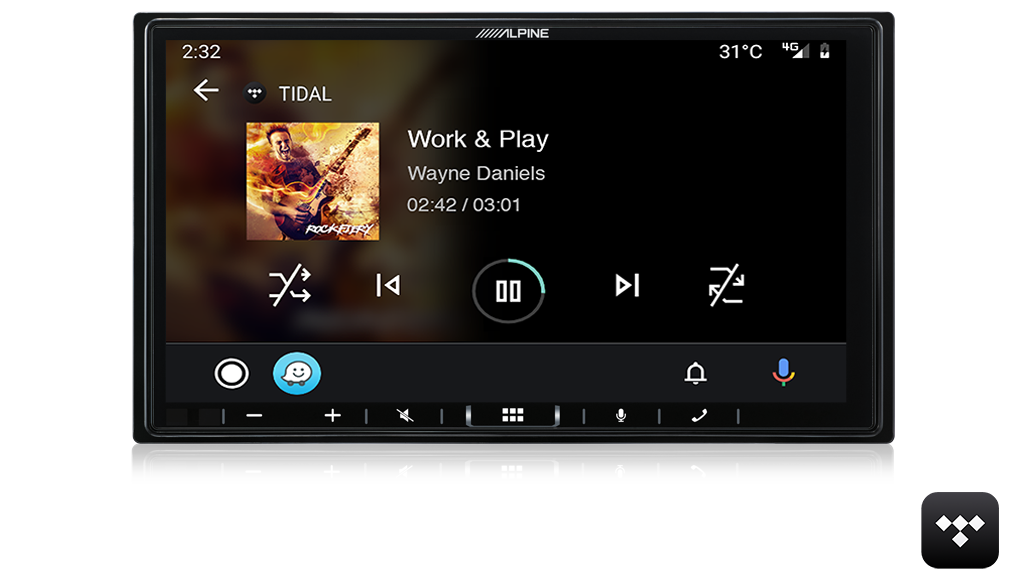 Tidal
While using Apple CarPlay and Android Auto, the Tidal app lets you stream your favourite songs in high quality audio. With over 60 million songs available to stream or download you have endless music options, plus you can stream guest playlists curated by the artists you love and listen to original playlists hand-picked by the Tidal experts. Tidal is a paid subscription.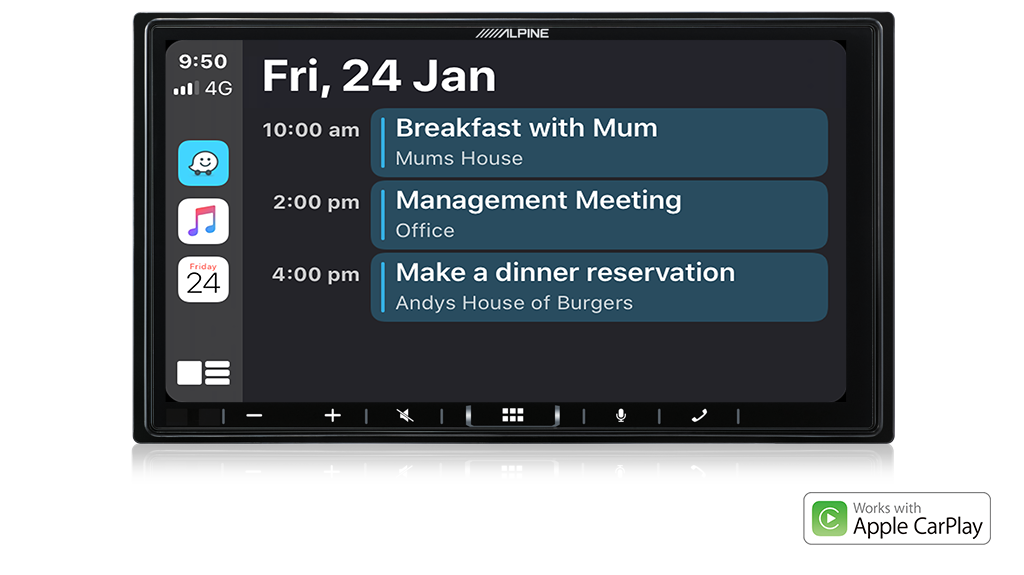 Calendar
Apple CarPlay brings your iPhone's Calendar schedule to your dashboard so you can stay up-to-date with future events and important dates whilst on the road. What's more, if you have a particular event with a location in your calendar, you can simply select the event from the display and Apple CarPlay will launch Maps and provide directions to the location with voice guidance.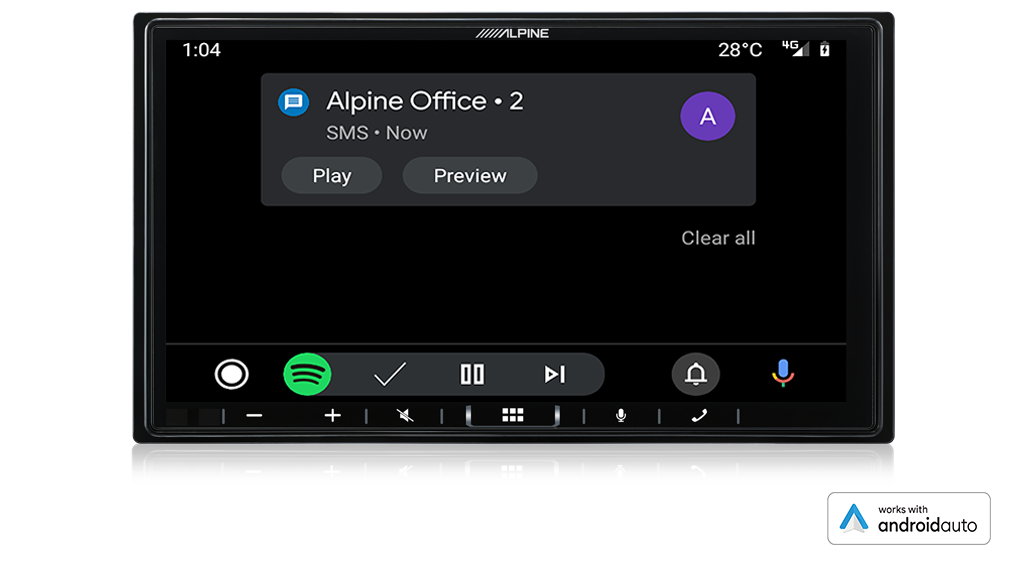 Notifications
Android Auto provides you with a simple yet convenient tab to display incoming notifications such as text messages and phone calls. Incoming text messages automatically notify you via the display or you can browse through recent messages. From the display you have the option to either preview the message text or play the message via text-to-speech.
Customisable Interface
The iLX-407A is equipped with a customisable user interface allowing almost limitless screen configurations. Whether it's listening to the radio or streaming music through bluetooth, the widgets can be arranged in a way that best suits users needs. Create up to 3 customised home screens by choosing from 29 widgets including Clock, USB images, Apple CarPlay, Android Auto, "Now Playing", Sources, Camera, and Bluetooth functions—that can be easily dragged-and-dropped onto the page.
PowerStack Ready
The iLX-407A innovative ultra-shallow design has a depth of 2.4 inches to allow an Alpine PowerStack Amplifier to be mounted to the rear of the chassis. This provides the flexibility to power-up the audio system with high performance  speakers or even a subwoofer.
Alpine's award-winning PowerStack Amplifier series gives you system versatility of a high power 4-channel amplifier, or a mono subwoofer power amplifier (sold separately).
PowerStack Showcase
This is video showcases the CES Innovation Award winning PowerStack System including the iLX-407A Audio Visual Receiver and either KTA-450 4-Channel or KTA-200M Mono Power Pack amplifiers.